Sound Bath and Chakra Meditation  

Baginton Village Hall,  Frances Road, Baginton Village    
6pm - 7pm             Parking available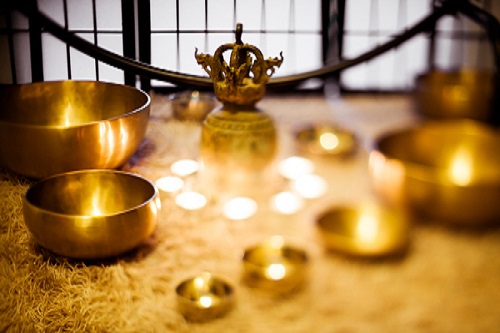 WHAT IS A SOUND BATH?
A Sound Bath is a journey of pure sound and vibration.  It is called a sound bath because you are bathed in the healing vibrations of Gongs, Tibetan Singing Bowls, gentle drums and many other instruments known for their vibratory healing frequencies. 
The demands of our daily lives, can lead to an increase in stress-related disease. Many influences, such as the foods we eat, people we encounter, thoughts we think, sounds we hear, environments we move within, etc., have a proven, negative effect on our well-being.  Sound and vibration help facilitate a deep sense of peace, release tension and blocked energy, and balance the energy centers in the body.  They are working at a cellular level to rebalance the physical, emotional and spiritual bodies.
WHAT HAPPENS DURING THE SOUND BATH?
We will begin our session with a Chakra meditation.  It doesn't matter if you have no experience of meditation – clear guidelines will be given.  
As we enter the Sound Bath you will either lie on the floor or just sit comfortably in a chair and let the sounds envelop you while you switch off, feeling the stresses and strains of the day melting away as peace and harmony wash over you.
It is advisable to bring a blanket and/or pillows/cushions to make yourself as comfortable as possible.  Although our space will be heated – it is advisable to bring a yoga mat or similar and a blanket/sleeping bag etc to lie on top of – as my own experience of attending sound baths has taught me that floors in big halls are usually cold!  There will be some yoga mats available to use – first come first served.
Most people close their eyes and let the sounds take them on a gentle and transformative journey.  Typically, a state of deep relaxation is achieved, and some people even fall asleep.  There's nothing wrong with this.  It just means that your body needed this time to fully relax.  You should dress in comfortable clothing and be prepared for an exciting new experience!
HOW DOES IT WORK?
Therapeutic instruments such as Gongs and Tibetan singing bowls stimulate the alpha and theta brain wave frequencies associated with meditative, clear and peaceful states of mind.   

Alpha brainwaves are present during light meditation, daydreaming and deep relaxation. Theta brainwaves are present during REM dreaming sleep and deep meditation. These states are considered the gateway to the heightened creativity, depth of imagination and access to the subconscious realms where deep seated healing can take place.

Therapeutic sound also impacts our nervous system, slowing the heart, brain and respiratory rates down to induce a state of deep relaxation and peace. When the brain waves and body are synchronised, balance can be restored and stress can be released.  
HOW DO I BOOK MY PLACE?
Pre–booking is essential.  
Either contact Maureen on 07507 636 623 or email maureenthomson54@hotmail.com   
Payment in advance              £10
Payment on the day              £12
Bank Transfer:   Sort Code: 40-18-38  A/C: 11501283  Ref: SB2022(your name) + email to confirm payment